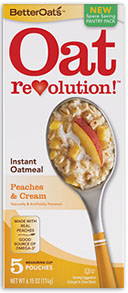 Get a coupon for a FREE box of new Better Oats Oatmeal by email when you fill out a simple form. You are asked to share your experience in an email or video and they will donate five meals to help feed hungry families in the United States.
Has any one seen this brand in stores?
Thanks, Kansas City Mamas!
If you like these deals subscribe
HERE
to get Free daily updates delivered right to your Mailbox!