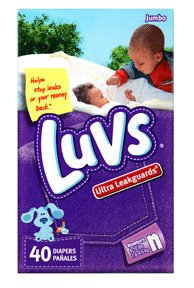 There is a new $1 e-coupon on Luvs diapers at Diapers.com. If you've been waiting to take advantage of the great deal for new members, this might be the time to do so.
Here's how you can score Luvs Jumbo packs for only $3.39 delivered to your door:
Sign into EBATESfor 2% cashback.

(1) Luvs Extra Large Case @ $35.99 (204 diapers in size 3)
(2) Luvs Jumbo Pack @ $7.99 (36 diapers in size 3 in each pack)
Subtotal $51.97
Check box for $1 off e-coupon (can only be used once)
Use promo code: NIKA5383 at check out to get $10 off
Pay $40.97 out of pocket


Then submit for the rebate found here and you'll get a rebate back for $14.97.

You'll end up paying $26 for 276 diapers. This works out to just under 9.5 cents a diaper or equivalent to $3.39 per jumbo pack!

Prefer Huggies or Pampers? You can do the same with them too !

If you like these deals subscribe
HERE
to get Free daily updates delivered right to your Mailbox!